A landing page is a specific web page you direct people to so they can be presented with an offer you are selling. It's often separate from your personal website– also known as a "standalone web page". The sole purpose of a landing page is to present potential customers with a call to action with a chance at generating leads. Well-made, high converting landing pages layout their exact points and visuals in a way that's simple and appealing to the target audience. 
What Is a Landing Page? 
Think of it as an actual page where people land (heh heh) on your current campaign. Landing pages can be used for all sorts of reasons: 
Sell your products

Offer discounts or deals 

Schedule calls 

Sell tickets to an event

Explain your online course option
There are many other reasons to create a landing page, but the main goal is to present a clear opportunity and link a call to action. 
In today's age, quite literally all businesses and brands could benefit greatly from having a landing page. It can seem tricky or confusing at first, but we're going to explain what, why, and how you can start a high converting landing page today.
What Makes a High Converting Landing Page? 
The first thing to understand about creating a landing page is that they come in all shapes and sizes. There's no one magical answer as to what YOUR landing page will need– everyone has specific goals and offerings. Your online marketing campaigns might be totally opposite of someone's pre-coaching quiz. 
The endless opportunity of landing page types ranges from all the different kinds of people they are targeted toward. However, there are certain formulas and practices that you can implement to build killer, high converting landing pages of your own. 
Top aspects of a great landing page: 
Captivating images and copywriting

Call to action button (duh– that's the entire point of a LP!)

Ideal audience 

Targeted niche

An offer of a product(s) or service(s) 
Let's go a little deeper into more of the details that make up these aspects. 
Hero Image
A hero image is the main picture or graphic that shows at the very top of the page, above anything else. Because it's the first thing people see, and an estimate of 1/20th of a second makes the first impression, you obviously want the hero page to be amazing. Depending on your offer, this could be a photo of your company, product, a designed graphic, a portrait of someone, or something that stands out in your offer. Ideally, the hero image shows a feeling or benefit the potential customer can feel or receive upon taking this offer. 
Pro Tips: 
Use a high-definition image.

The hero graphic needs to be completely relevant to the page.

Ideally, the image will be emotionally engaging: funny, caring, interesting, healing, etc.

Find beautiful stock photos or pay for unique images if you don't have any of your own. 
Catchy Header and Subheader
Headers are like the second "first impression" of your offer. Make headers stand out and allow the words to hold the value of what you are offering. What makes you different from your competitors? How will people benefit from your service? Use your words wisely and creatively. 
Pro Tips: 
As a subheading, try to include some type of guarantee in there. It's psychologically reassuring to readers. It doesn't have to be "money-back guarantee"– it can be something simple like "Free strategy session guaranteed with Purchase" or something along those lines.  

Limit headers to 12 – 20 Words maximum; roughly 69 characters at MOST. 

Don't clutter your landing page with too many headers. The headers are to grab the attention of the next main point.

Subheads are often directly under Headers. Subheads can explain a little more in detail about the relevancy of the header. 
Call to Action (CTA)
The CTA is the sole purpose you bring visitors to your page. It needs to be streamlined into focus by the whole rest of the page. Your CTA needs to stand out visually. It also needs to be compelling and easy to read! Copywriting is important when it comes to a landing page. The main link on your page should be the CTA– and preferably the only link unless the situation calls for one or two references or email signup. 
Pro Tips: 
Your CTA needs to be a clickable button. Preferably A BIG BUTTON.

Use contrasting colors for the button background. A color that still goes with your theme, but stands out as the boldest, brightest, or most contrasted item on the entire page. 

Avoid the word "Submit" on forms and buttons. People aren't slaves. Use positive, affirming words like

Sign Me Up!, Click to Get Yours, Show Me More, Send

, etc.
List of Specifics & Features
After the Call to Action, list some of the top benefits of your offer to peak readers' interest even more. Emphasize what they will receive, learn, or improve upon saying YES to your offer. People have a higher chance of converting after you explain what's in it for them. 
Pro Tips: 
Keep in mind the concept of pain vs pleasure when writing copy for the features of your offer. How does it relieve some pain or offer some pleasure? 

Don't directly mention pain, but obviously use this in brainstorming what to write. 

Include high-quality images of your product or service– visualization is amazing for lead generation. 

Share these benefits in a crisp post or photo story on social media with a link to your landing page. This improves traffic to your landing page!
Social Proof
Social proof means things like testimonials, case studies, reviews, and stories of how you helped previous customers. There's a higher increase in conversion rate optimization when people can see the proof of how what you are offering actually works. When someone understands that other people said yes to you and had success before, they are more likely to trust you and your offer. It's all about credibility here. 
Pro Tips: 
At the bottom of a testimonial, add a smaller Call to Action somewhere to collect email addressed. Perhaps a button that says "Click to Learn How"

Many aspects of

digital marketing

use social proof as a key indicator to increase conversion, not just high converting landing pages.

Embed a short, appealing video testimonial of one of your past clients explaining how and why you helped them. A word-of-mouth recommendation goes a long way, even over the internet.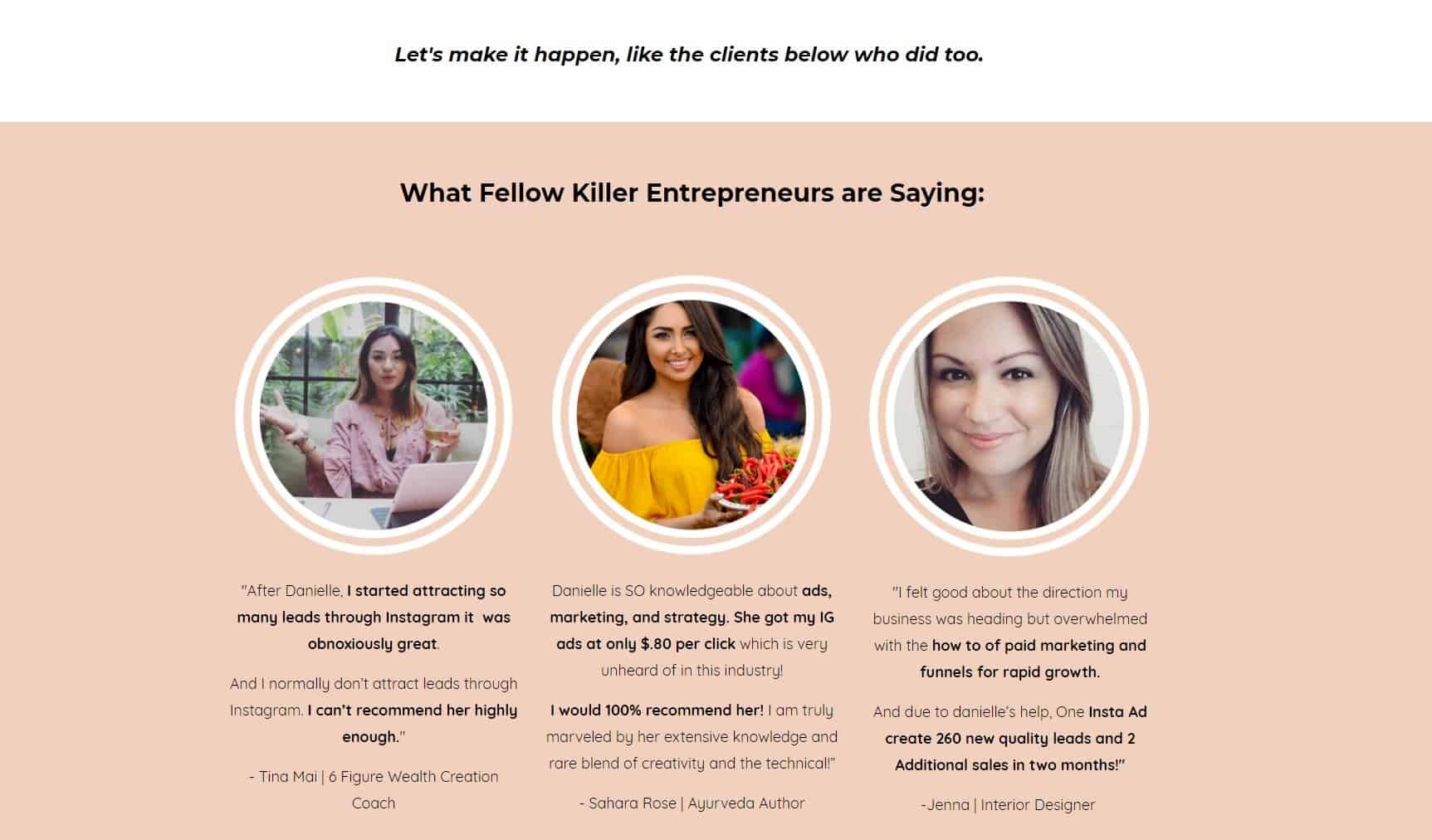 Brainstorm: Successful High Converting Landing Pages
First Know Your "Why".
Before you dive into creating an amazing landing page, you need to write out your goals. What do you intend to accomplish through your Call to Action? Is it a kickoff to content marketing? Are you trying to grow your email list? Sell more of your high-end products? Promote an upcoming deal at your shop? Focus on your exact goals. 
Create Your Message
When you can explain your goals, now it's time to create your overall message. What problem are you going to solve for your landing page visitors? What pain point of theirs are you capable of helping with? How are you better than your competition in this area? 
Keywords!
Keywords are actually super important when setting up a high converting landing page– or any pages on your website, for that matter. These are the words and phrases people type in when someone searches the internet for solutions to issues. And with the right keywords in place, you can show up as someone who can solve those issues they're looking to fix.
Landing Page Design
After the "guts" of your landing page are taking form, it's time to plan the design of your high converting landing page. What do you want on your landing page out of the main elements? Images, videos, CTA button, contact form? Or maybe keep it simple with a logo, checklist, and a clear call to action button. Depending on your goals, you need different elements. Don't overcomplicate it– keep it simple but beautiful and appealing. 
Other design elements include: 
Theme (colors, fonts, layout, icons, etc.)

Images (relevant and big)

Positioning of headers 

Chronological landing page structure 

Footers (often over-simplified for LPs)

Minimal contact options

Use white space or white backgrounds for an air of cleanliness, elegance, and productivity.
Want to know more about landing pages? Contact us today and we'll help you out. Comment below if you have any other tips and tricks for creating high converting landing pages! We'd love to share it!